Did You Spot A Beehive On Your Property? To Get Rid of It, Get In Touch With Us Now!
Do you have a bee infestation problem on your property? Get all the best services offered by us to get rid of bees and beehives by approaching OZ Pest Controllers Our team is prepared to provide the most effective and promising Bee Removal Adelaide services. You only need to get in touch with us and speak to our team to resolve your issues. Our team can come up with the most useful solutions by using the most effective and efficient bee extraction techniques. Contact our team if you have any questions or issues about the services or the beehive relocation. It can be really frustrating to have bees on your property. To get rid of them as quickly as possible, you must seek the assistance of experts for their removal.
To schedule an appointment for this, call 0488 851 508 right away!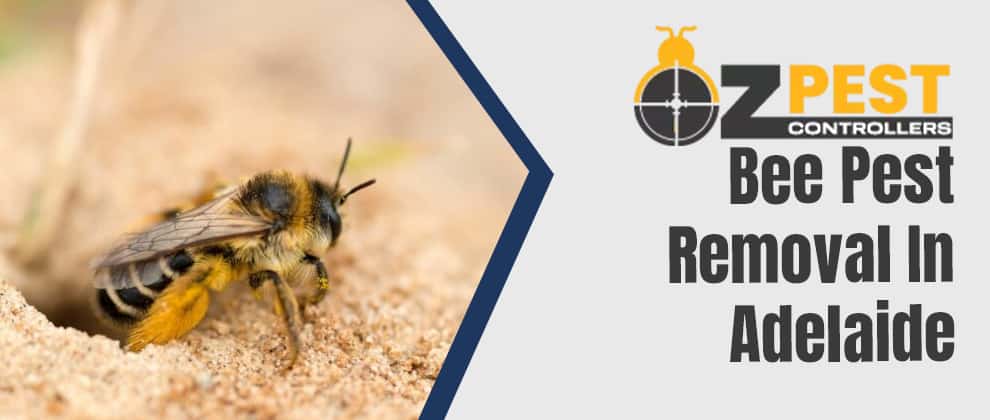 Various Bee Types That We Can Get Rid Of!
Our team has experience with a variety of bee species. You can count on us if you ever want to get rid of bees from the residence. Because your problem should be handled by our team. We employ specialised services for bee swarm removal. We employ the techniques and tools that will produce the best results according to the type of bees that are creating the infestation. For the greatest results, our consumers frequently rely on our services because of all these factors. The following varieties of bees have been no match for our bee exterminators:
Honey Bee (Apis mellifera): Honey bees are a species that is frequently encountered. Even though they are simple to track, managing them can be challenging. With our honey bee relocation services, we assist in eliminating honey bees by using the finest heat treatment. The beehive relocation is something else we do for the best outcomes.
Bumble Bee (Bombus spp.,): The majority of people are allergic to these strong, hairy bees, commonly called "bumblebees". Our bee control team is ready to help you because managing them is challenging. Our team can quickly and successfully remove the bees from your property. So take advantage of our services now!
Carpenter Bees (Xylocopa Virginia): These bees have smooth abdomens and a body colour that is blackish-blue. Dealing with them might be challenging at times. As they often live in burrows and also deadwood, it gets difficult to encounter them on your own. However, it is crucial to get rid of them. Therefore, engaging with us for our bee removalist help will be beneficial.
How Can We Control Bees?
It is clear that bees are most frequently observed near flowers and flowering plants. This is due to the fact that they are typically found in your yards or gardens and feed on pollen grains. Therefore, our company provides bee control services in Adelaide that are quite helpful in ridding your property of bees. What we do is as follows:
Inspection of The Area of Beehives: A comprehensive inspection of the property is required to get the best results. With the use of detectors that can detect their existence and the source of the bee infestation, our bee exterminator thus starts the treatment. Our team will evaluate various areas of your property as well as the locations where they construct their beehives, during the inspection. In order to compile a report, we examine the regions where there are old wood logs, trees and bushes, fences, etc.
Removal of Bees Around: We can locate the bees after receiving an inspection report. Then our bee rescue team first take away the bees that are flying around. We remove the bees from the area using the fumigation or fogging technique, and we then move on to destroy the beehive.
Removal of Beehives: Instead of destroying the hive, we can move it to locations that are close to their natural habitat. You will find it really simple to rid your property of bees as a result. this is the most important step that also helps in preventing the infestation in future.
Destroy The Hive, If Required: In the event that the beehive cannot be relocated, we burn the hive. It will also deter other bees from being drawn to your property. Therefore, it is best to destroy beehives when you got no choice.
Final Inspection: We are here to give you the services you need in a timely manner without further ado. Our bee control experts will do a final inspection to ensure that your place is devoid of bees and their residues after providing the treatment.
How Beehives Are Constructed?
Typically, honey-based beeswax is used to construct beehives. Wax-producing glands in honey bees are essential for the construction of beehives. their hives have hexagonal rings that consist of honey in it, which is stored by the worker bees. bees. Honey bees typically build their colonies in holes and hollow spaces. They also make sure that their hive can resist extreme weather. Typically, beehives are found around trees, lofts, wooden logs, sunken trees, etc. As a result, you can see them most often around and around these, along with a lot of bees. There is a good possibility that your property has a bee infestation if you come across these.
Without Any Delay, We Provide Same-day Bee Removal Services!
OZ Pest Controllers is a local company that provides bee removal services throughout all of Adelaide. Our bee pest control Adelaide team will show up at the given location as soon as we get your booking request. This will make it easier to provide same-day bee removal services. The following are the top justifications for picking our company for prompt services:
Local Company: Locals own and operate our locally-oriented bee control company. Get local bee control services from us right away by getting in touch with us.
Accessibility: Please get in touch with us if you ever discover a beehive in the house wall. Our professionals are available to help you rid your property of bees and are conveniently reachable.
Rapid Assistance: If you have a beehive within your home, we are here to provide quick beehive relocation services and assist you in acting promptly. You can get in touch with us if you're looking for prompt assistance.
Same-day and Emergency Services: Contact us if you feel the need for same-day bee control services or maybe even emergency services. Within 24 hours of the scheduled appointment time, our bee control team will arrive at your doorstep.
FAQs on Bee Removal Adelaide
How to get access to your bee removal services in Adelaide?
Your access to the services in Adelaide will be immediate and pretty prompt. You can get in touch with us for same-day services. Your bookings can be made at any time by contacting our customer service team.
Are your professional beehive relocation services expensive?
No! Our beehive relocation services are quite reasonably priced. We offer services using the most advanced methods and we charge only for the services that we perform. This not only gives you the best outcomes but is also cost-effective.
Do you offer pet-friendly services?
Our services are safe for your pets. So you don't have to worry about the safety of your pets.